RetinOil ™
Delicate facial oils that protect the skin's moisture barrier as well as stimulate skin cell turnover with retinol, a form of Vitamin A, your skin cell's favorite nutrient. RetinOil does not clog pores and retains freshness by addition of astaxanthin, an anti-oxidant from red algae.
Pumpkin Seed Oil, Jojoba Seed Oil, Castor Oil, Argan Oil, Squalane, Black Cumin Seed Oil, Black Currant Seed Oil, Rosehip Seed Oil, Meadowfoam Seed Oil, Grape Seed Oil, Seabuckthorn Seed Oil, Pomegranate Seed Oil, Hemp Seed Oil, Retinol, Astaxanthin, beta-Carotene, Essential Oils for Fragrance.
Apply a.m. or p.m. To use as moisturizer, mix 1-2 drops with toner in palm of hand. Massage on to face, neck and chest. May be added to any skin care product. Increase to several drops once skin has adjusted to use of
retinol
. May be used with our Nutrient Cocktail.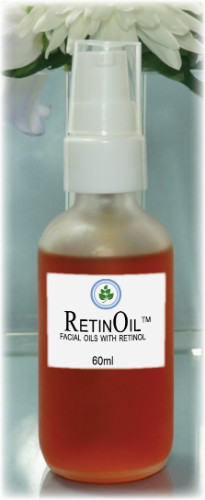 Testimonials
---
Testimonials
---
I mix RetinOil with Nourishe Toner after cleansing. Definitely better than any moisturizer I have ever used. Very fresh smelling. Sometimes I add RetinOil to the peptide serum. I think my skin is firmer and looks younger.
CAROL - CHEYENNE, WY
I notice that the overall tone of my skin is greatly improved with RetinOil. I can feel my skin is healthier.
KATHY - CHICO, CA
Finally a retinol product that does not peel my skin. The oils smell wonderful.
SANDI - LIVE OAK, CA
I have very, very dry skin. I have tried too many lotions, potions, doctor recommendations and spa treatments. A colleague told me about Nutrient Skin Care. I can truly say that my skin has never felt so moisturized and healthy. I receive compliments on how healthy my skin looks and friends want to know what I have been doing. I happily refer them to Nutrifoliant and RetinOil. I also use BodyFoliant and After Shower Body Oils. Love them all.
DEBBIE - FOREST RANCH, CA